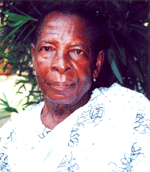 Asafoatse Nene Affun Okanfran Iii Of Obonuwem Old Ningo, Nene Kofi Addo The Djase Of Obunuwem Old Ningo, Numo Gbenatey Asaanto The Family Head Okwenya, Kwetey Asaanto Of Takusey, Emmanuel V.N. Odonkor And Family Dodowa, Numo Addo Sosa, Paafio Teye Quaynor Dodowa, Mad.Kweinorkuo Takusey, Narh Sologa Asaanto Takusey, Wofa Treku Addo Of Dodowa And The Entire Brothers And Sisters Of Quaynor's Family Dodowa, The District Pastor Presbyterian Church Of Ghana Dodowa Regret To Announce The Death Of Their Beloved Father And Brother
EMMANUEL  ADDO  QUAYNOR
(aka Akutseh)

WHOSE SAD EVENT OCCURRED ON 16TH OCTOBER 2012 AT THE KORLE BU TEACHING HOSPITAL AFTER A SHORT ILLNESS.
Burial and funeral arrangements are as follows:

There will be no wake keeping

The body will be laid in state on 1st December 2012 at his residence House No. DD/MY0082 Dodowa, near the Roman Catholic Junior High School. Burial service on 1st December 2012 at house no. DD/MY0082 at 8.30 am
Burial will take place at Ningo, Presbyterian Church cementary

Funeral rites continue at his residence, House No. DD/MY 0082 Dodowa.

WIDOW:  Mary Otumle Narh-Kwame

CHILDREN: Beatrice Ablamaah Quaynor -Tamale, Elizabeth Ablakuma Quaynor-Tema, Edward Kofi Quaynor- Swedru, Augustina Marku Quaynor- Dodowa ,Comfort Ladjer Quaynor-Tema, William Quaynor- Accra and Grace Quaynor- Accra.
GRANDCHILDREN: Eric Addy Barletey, Martha Barletey, Philip Barletey, Helen Barletey, Ato Kwemena Davies, Nicole Maame Manu Attah, Doreen Akweley Osei,  Dorinda Akwokor Osei, Joseph Osei, Bill Martey Quaynor, Ann Maame Yaa Marteko Quaynor, Cyril Yenemi Adasorn and Salma Adasorn.

NEPHEWS,NIECES AND COUSINS:

Emmanuel V. N. Odonkor, Wofa Tetteh Odonkor and children, Maafio Ablah – Okwenya, Kwesi Boye – Okwenya and children, Yaw-Addo – Gabon, Aklesi -Suberesu,
Chief Mourners:

ASAFOATSE NENE AFFUN OKANFRAN III OF OBONUWEM OLD NINGO, NENE KOFI ADDO THE DJASE OF OBUNUWEM OLD NINGO, NUMO GBENATEY ASAANTO THE FAMILY HEAD OKWENYA, KWETEY ASAANTO OF TAKUSEY, EMMANUEL V.N. ODONKOR AND FAMILY DODOWA, NUMO ADDO SOSA, PAAFIO TEYE QUAYNOR DODOWA, MAD.KWEINORKUO TAKUSEY