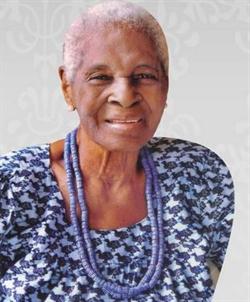 Torgbui Duklui Attipoe V, Anyako; Torgbui Tsikata - Agbodzie II, Dufia of Srogboe; Mama Biana Dadzie I, Nyornufia of Srogboe; Torgbui Tenge Dzokoto Gligui VI, Anyako; Torgbui Subo II, Anloga; Torgbui Kposegee III, Anyako; Torgbui Awushie Okpattah III, Anyako; Mamaga Miedoafe II, Zikpuitor Godwin Kwashie Anagbo, Mr. Michael Kwami Attipoe, Capt. Kojo Tsikata (Rtd.), Rev. F. M. Lawluvi, Mr. Bless Lawluvi, Mad. Beatrice Mana Alornyo, Mad.Helene Ableworvi Attipoe, Rev. (Mrs) Faakor Attipoe-Ansong, Rev. Father Ignatius Attipoe, the Parish Priest of St. Francis of Assisi Catholic Church, Juapong; the Obam Attipoe Family Union announce the Home Call of their beloved
Madam Christine Adzorwode Attipoe
On Valentine's Day, 14th February, 2015, in Accra
FUNERAL ARRANGEMENTS
FRIDAY 20TH MARCH, 2015: Family Vigil at House No. 12, Asoyi Road, East Legon – Accra, from 5:00 PM to 10:00 PM
SATURDAY 21ST MARCH, 2015: Burial Mass at Mary Mother of Good Counsel Catholic Church, West Airport, Accra, at 8:30 AM
FILING PAST: 7:00 AM – 8:30 AM.
The body will be conveyed to Anyako – Volta Region for Private Burial.
FUNERAL RITES:
At House No. 12, Asoyi Road, East Legon – Accra, at 11:30 AM
SUNDAY 22ND MARCH, 2015: MEMORIAL AND THANKSGIVING SERVICE at Mary Mother of Good
Counsel Catholic Church, West Airport, Accra, at 8.30 a.m.
CHILDREN
Mrs. Gladys B. Ahiabu (deceased), Mrs. Lucy Abla Tsikata Adams, Mama Biana Dadzie I (Mrs. Paulina Dsani), Peter Atsu Tsikata, Paul Etsey Tsikata, Justice Freedom Lawluvi.
GRANDCHILDREN: 27 GREAT GRANDCHILDREN: 29
ALL FRIENDS AND SYMPATHISERS ARE CORDIALLY WELCOME